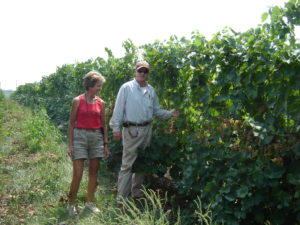 Silver Creek Orchards is a 7th generation family farm that lies at the base of the Blue Ridge Mountains.  The Flippin family has been growing fresh market apples in Tyro, Virginia since the mid 1800's.  In the 1940's apples were again planted by John T. Morton as a hobby.  In the 1960's Bill Flippin returned  to the farm after college and turned his Grandfather's hobby into a business.  Silver Creek Orchards incorporated in 1976.  Bill managed his family's farm for over 40 years and has now handed the management position over to his daughter and son-in-law , Ruth and John Saunders.
Today Silver Creek Orchards grows high quality fresh apples that are packed and shipped all over the world.
In 1999, Silver Creek Orchards planted their first wine grapes.  We have continued planting wine grapes each year since 1999.  The fruit is harvested and sold to wineries throughout the state of Virginia and North Carolina.
Beef cattle have continued to graze our farm's bottomland for generation.  Through an aggressive cross breeding program, we pride ourselves on producing high performance beef cattle that are sold to feedlots across the United States.
Apples
Silver Creek Orchards raises over 20 varieties of apples which include Lodi, Ginger Gold, Gala, Golden Supreme, Red Delicious, Golden Delicious, September Wonder, Fuji, Stayman, Winesap, Rome, Black Twig, Virginia Gold, Pippin, Mutzu, Jonagold, York, Pink Lady and Granny Smith.  Recently planted varieties include Gold Rush, Cameo, Ashmeads Kernel, Harrison,  and Virginia Hewes Crab.
Most of our apples are packed through our packing house known as Silver Creek and Seaman Orchards, Inc. and shipped to grocery stores all over the world.
Our apples can  be purchased at our retail facility located at Silver Creek and Seaman Orchards (www.SCOS.co) in Tyro, Virginia.  You can also pick your own apples the second weekend in September and the second weekend in October.
Beef Cattle
Silver Creek Orchards runs a commercial cow/calf operation.  We stock approximately 275 brood cows that calve in the months of November and December each year. These calves are raised on our farm until August and then sold to feedlots all over the United States.
Wine Grapes
Silver Creek Orchards has been raising wine grapes since 1999.  The varieties consist of Chardonnay, Cabernet Franc, Merlot, Cabernet Sauvignon, Traminette, Chambourcin, Petit Manseng, Petit Verdot, and Viognier.  These wine grapes are sold to wineries located throughout the state of Virginia and North Carolina.